Update Post: November 28, 2023 8:53 am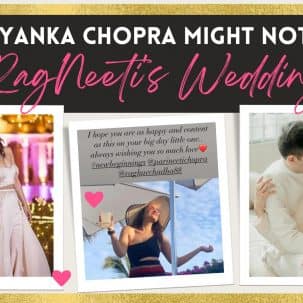 Priyanka Chopra's latest Instagram story for Parineeti Chopra has left social media speculating whether she will skip RagNeeti's wedding. Watch the video to know more details.
Priyanka Chopra and Nick Jonas might not be able to attend the wedding of Parineeti Chopra and Raghav Chadha, affectionately called RagNeeti. According to reports, conflicting schedules might prevent Priyanka and Nick from attending the celebrations in Udaipur. Priyanka Chopra and Nick Jonas, being busy individuals, have commitments and engagements that sometimes clash with personal events. Despite their close bond with Parineeti and Raghav, it's unfortunate that they might not be able to join in the joyous occasion. On Saturday, Priyanka took to her Instagram account to post a picture of Parineeti and penned a heartfelt note ahead of her big day.Priyanka shared a picture of Parineeti chilling by the pool in a dress and a summer hat along with a drink in her hand. The actor could be seen in a jolly mode and dancing before her big day. Priyanka shared the picture on her Instagram and showered her love and blessings on Parineeti. "I hope you are as happy and content as this on your big day little one. always wishing you so much love. #newbeginnings," Priyanka wrote along with the picture. Watch the video to know more.