Update Post: December 4, 2023 10:55 pm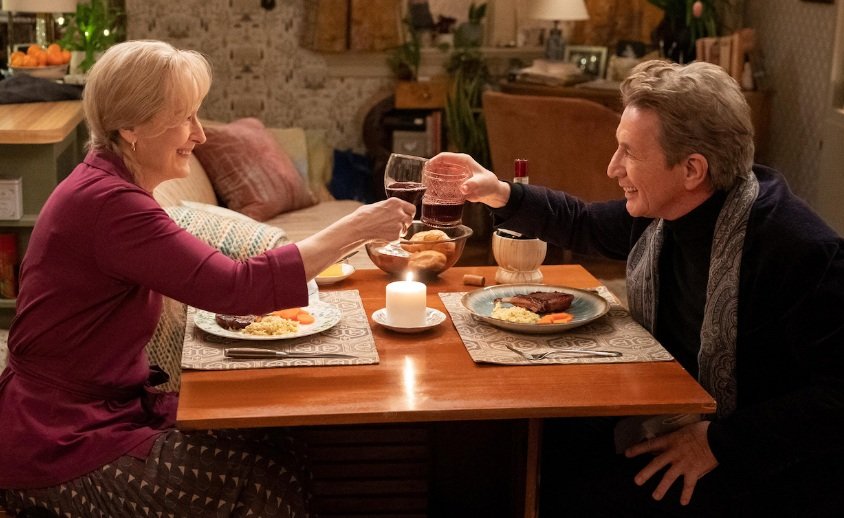 Only Murders in the Building is trucking along on its third season and third murder mystery to solve, and it's as fun as the previous seasons, but this one has the pleasure of seeing Meryl Streep play the role of Loretta Durkin, a newly discovered Broadway star who is falling in love with Martin Short's Oliver Putnam. She's a quirky, fun, and layered character, and we got to see her New York City apartment in this week's episode, S3 Ep.5, "Ah, Love!". Inside her apartment, there were so many things to see, and the show's production designer, Rich Murray, says there were many hidden easter eggs from the multi Academy Award-winning actress's career.
There's a framed hanging tea towel which is a nod to the 2015 film Suffragette in which Streep played British political activist Emmeline Pankhurst. Says Murray, "It hangs between the window. Her character's name is on the tea towel. Suffragette is a magazine that came out in the early 1900s and it was an activist pamphlet so we put her name on that."
The homage to Kramer vs. Kramer is on Loretta's fridge door. Says Murray, "It closely mimics the bulletin board over her son Billy Kramer's bed in the film. And there's a Christmas card from her character to Billy. So, we recreated that card and hung the images around it."
The tulips on Loretta's desk were pulled from the 2009 film Julie & Julia which starred Streep and Stanley Tucci.
Murray was drawn to the flower arrangement when the couple goes out to dinner in Paris. "They're in a booth and there is a gorgeous arrangement of French tulips that looked like they had been moved a couple of times. It was this gargantuan arrangement. So, I always put an arrangement of French tulips on her desk, and they were weirdly arranged like in the film." He adds, "The scripts on her desk were plays or movies that she had been in."
In a nod to Streep's character Karen Blixen from the 1985 film Out of Africa, Murray covered an ottoman in a burlap fabric with a Kenyan coffee design. Murray says, "Her character lived on a coffee plantation, so we put that next to the couch."
Of course, Murray had to pay homage to Streep's iconic character in The Devil Wears Prada. He explained, "We built a series of books in her bookcase, and across the book spines is the logo from the film."
Those are the easter eggs he mentioned, but there could totally be more! I want to watch the episode again just to see what I can find! I love this show, and I really hope Streep doesn't turn out to be the murderer, so that maybe we will see her again. Only time will tell…
via: Variety