Update Post: November 28, 2023 10:12 am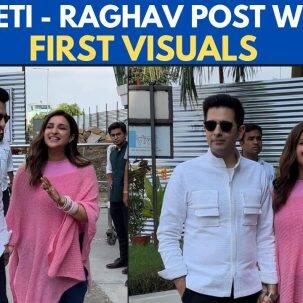 Everyone was eagerly waiting for the spotting of Bollywood actress Parineeti Chopra and Raghav Chadha after their marriage. Recently both were spotted together where both looked very happy with each other.
Parineeti Chopra – Raghav Chopra Visuals: Actress Parineeti Chopra and politician Raghav Chadha have tied the knot. The wedding pictures of both of them have created quite a stir. Well, now this couple has been spotted together for the first time after marriage. Happiness is visible on the faces of both of them. The couple was spotted in Udaipur. Parineeti was seen in a pink outfit, while Raghav was also seen supporting Parineeti by holding her hand. This first video of both of them after their marriage is going viral on social media. For more information please watch the video.