Update Post: December 4, 2023 11:44 pm
Anil Kapoor is loved by the audience. People always love the way he has maintained himself. However, he has now landed amongst the trolls. Well, the reason for it is Janhvi Kapoor. It happened so that Anil Kapoor accidentally or intentionally went on to like a reel that speaks about his niece Janhvi Kapoor's alleged plastic surgery.
In the reel we see Janhvi Kapoor, Khushi Kapoor, and Shanaya Kapoor's transformations. The video shows the before and after pictures of the Kapoor sisters. It shows how Janhvi, Khushi and Shanaya have transformed over the years due to alleged plastic surgeries they have done.
Anil Kapoor likes a reel trolling Janhvi Kapoor
The reel was not to hurt anyone, but it only showed how stars allegedly spend loads on surgeries to look good but do not admit it. They only create some unrealistic beauty standards for the audience who get inspired by them.
But what went wrong was Anil Kapoor liking this reel which was about his own nieces. Influencer Varzilla had made the reel and it was reshared by Reddit sub BollyBlindsNGossips. They also shared the screenshot of Anil Kapoor liking the video. It might have been done by mistake but netizens did not spare Anil Kapoor.
Netizens troll Anil Kapoor
They started trolling him badly for not accepting Sridevi's daughters well. People started digging out the past and saying that Anil Kapoor's relationship with Boney Kapoor was not nice ever since the latter got married to Sridevi.
A user wrote, "Why would he like that? Weirdo." People also said that Anil Kapoor, Arjun Kapoor and others do not treat Janhvi and Khushi as they own yet. The user wrote, "Full family didn't fully accept Janhvi and Khushi although they like to show things otherwise including Arjun It always seemed like It's one way effort by Janhvi and not so much from their side."
One of them also called Anil Kapoor an annoying uncle for liking a reel about his nieces. The user shared, "He is the prime example of that annoying uncle every family has."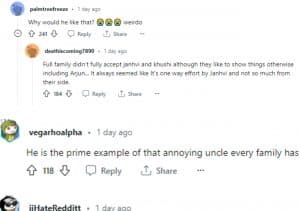 Well, looks like netizens are clearly not happy with Anil Kapoor. On the work front, Anil Kapoor will be seen in Thank You For Coming starring Bhumi Pednekar, Shehnaaz Gill and others.
A look at Janhvi Kapoor's stunning looks:
He recently dropped the poster of himself from Ranbir Kapoor's film, Animal. In the film, he will be playing the role of Ranbir's father named Balbir Singh.