Update Post: December 9, 2023 9:00 am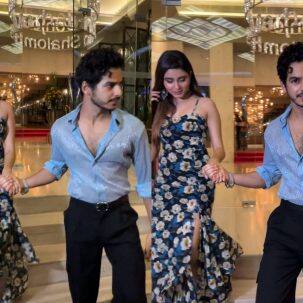 Ishaan Khatter made his first public appearance with his rumoured girlfriend, Chandni Bainz last night. They were reportedly attending a friend's engagement party.
Ishaan Khatter was spotted last night with his rumoured girlfriend Chandni Bainz. This was the first time he made a public appearance with Chandni. They were seen attending the engagement ceremony of their friend, Ojas Desai. Ishaan looked charming in a a shimmery sky-blue shirt and black pants. Chandni was seen wearing a black printed dress. A video of them has gone viral as the exited the venue. In the video, Ishaan is seen walking hand-in-hand with Chandni. However, they left as soon as they opened the doors of the hotel. They were then seen climbing down the stairs and like a gentleman Ishaan held Chandni's hand. He escorted her to the car and opened the door for her. He further closed the car door for her and then posed for the paparazzi alone. The actor then sat in his car and left. Fans are delighted to see this couple and have praised how Ishaan has been taking care of Chandni.