Update Post: December 4, 2023 11:58 pm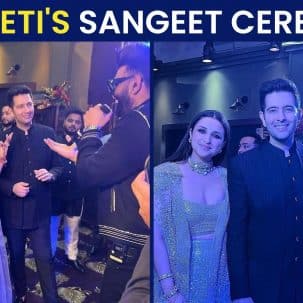 The sangeet night of RagNeeti was a dazzling affair, filled with music, dance, and joyous celebrations. Watch the video to check out the inside videos of the night.
Parineeti Chopra-Raghav Chadha Sangeet Ceremony: As the evening unfolded, all eyes were on the groom, who looked absolutely dashing in his stylish attire. With his impeccable sense of fashion, he exuded confidence and charm, stealing the spotlight effortlessly. His choice of outfit, combined with his charismatic presence, left everyone in awe. While the bride looked absolutely stunning, it was the groom's undeniable charm and captivating style that made heads turn throughout the night. Together, they created a picture-perfect couple, radiating love and happiness on their special day. Last night, the couple hosted a lavish sangeet night for the guests with the theme 'party like the 90s' at The Leela Palace. The celebrations lasted all night with a special music performance by Punjabi singer Navraj Hans. The couple is expected to get married this afternoon and will host a reception bash for the guests later in the day.