Update Post: November 28, 2023 10:14 pm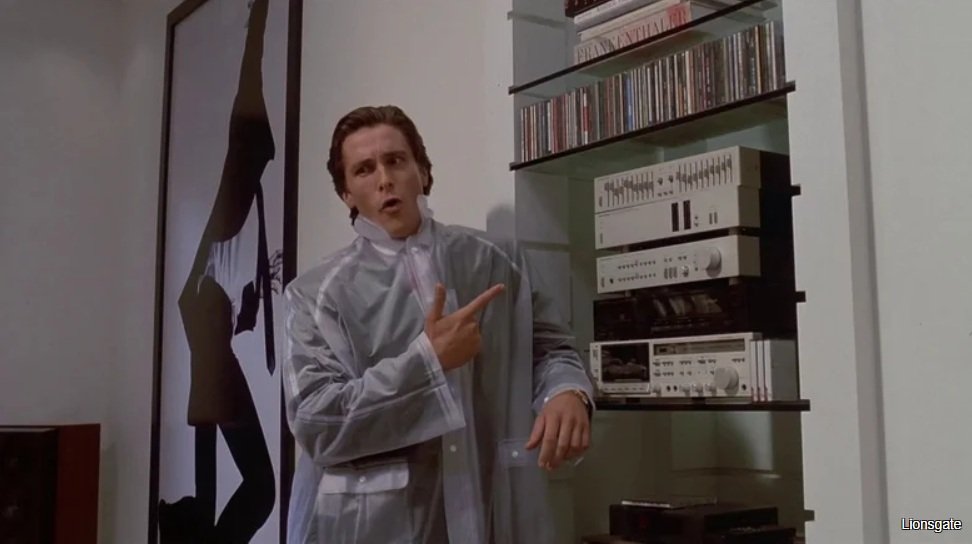 American Psycho is such a crazy movie! In the film, Christian Bale plays a mergers and acquisitions business executive who has an appetite for murder. He blends in seamlessly for much of the film among his ultra-fake, rich, white co-workers who seem to be all the same, which is part of the humor of the movie, making the whole thing a blend of hilarious and super dark.
One scene in particular that is memorable to fans is when Bale's character Patrick Bateman finally kills his rival Paul Allen to the peppy tune of "Hip To Be Square" by Huey Lewis and the News. Wearing a rain jacket to protect his expensive suit from the impending bloodshed, Patrick blasts the tune on his fancy CD player and goes into a long-winded monologue about the hidden depths of the lively pop song:
"A song so catchy, most people probably don't listen to the lyrics. But they should, because it's not just about the pleasures of conformity and the importance of trends. It's also a personal statement about the band itself."
You'd think that Huey Lewis and the News would have maybe gotten a kick out of the use of their song for the scene, but Lewis actually decided to never watch the movie because of it. It wasn't just the fact that the film used his song, but because of a publicity stunt around it. Uproxx reports in an episode of Mark Hoppus' Apple Music After School Radio, Huey Lewis explained why he still has not seen American Psycho:
"On the eve of the release of the movie, they came out with a press release that went everywhere that said that Huey Lewis had seen the movie and it was so violent that he yanked his tune from the soundtrack, to pump up interest. And that pissed me off, frankly, so I boycotted the film. I've never seen the film, but I did see the clip when we lampooned it for 'Funny Or Die.'"
100,000 copies of the soundtrack were removed from shelves, but not because of violence: The rights had not been paid for the song to be included on the album (via The Guardian).
It's clear that Lewis studied the "Hip To Be Square" scene for the Funny Or Die parody he made with Weird Al Yankovic. He recreates it perfectly, from the little dance that Patrick Bateman does by the CD player to Christian Bale's clipped voice, sharp mannerisms, and wide eyes conveying a live-wire energy. Instead of talking about his music, Huey Lewis monologues about the film itself:
"Do you like 'American Psycho'? It's okay. Although originally polarizing to audiences and critics alike, it developed a much deserved cult following when released on digital video disk or DVD. There, it found a second life and really came into its own. Commercially and artistically, the movie works both as a grim examination of male vanity while also maintaining real genre thrills."
In the Funny Or Die video, Lewis kills Weird Al for covering one of his songs. Even though he is still upset about the publicity stunt, it's great that he's still got a great sense of humor about the whole thing! Check out the parody below, and enjoy:
via: /Film